TERA Tehnopolis Ltd. was registered in 2002 (named Technology Development Centre in Osijek Ltd.) as a result of cooperation between Josip Juraj Strossmayer university, the city of Osijek and Osijecko-Baranjska County.
Mission
TERA Tehnopolis Ltd. for promoting new technologies, innovation and entrepreneurship activities are aimed at linking science and economy, and to secure infrastructure, and financial support for innovative and technology-based projects.
The primary task is to develop a knowledge-based economy using a new and significantly improved existing technologies.
With the help of the University of Josip Juraj Strossmayer, the Ministry of science, education and sports and local government, Tera Tehnopolis creates the conditions for a quick and successful transformation of research results and innovations into products competitive on the market, also encourages international transfer and development of SMEs.
Areas of particular interest are biotechnology, environmental protection, information technology and projects which provide opportunities for business development to companies in the region.
Its mission is generated by incubating technology-based companies and by providing development and consulting services for the economy in the region.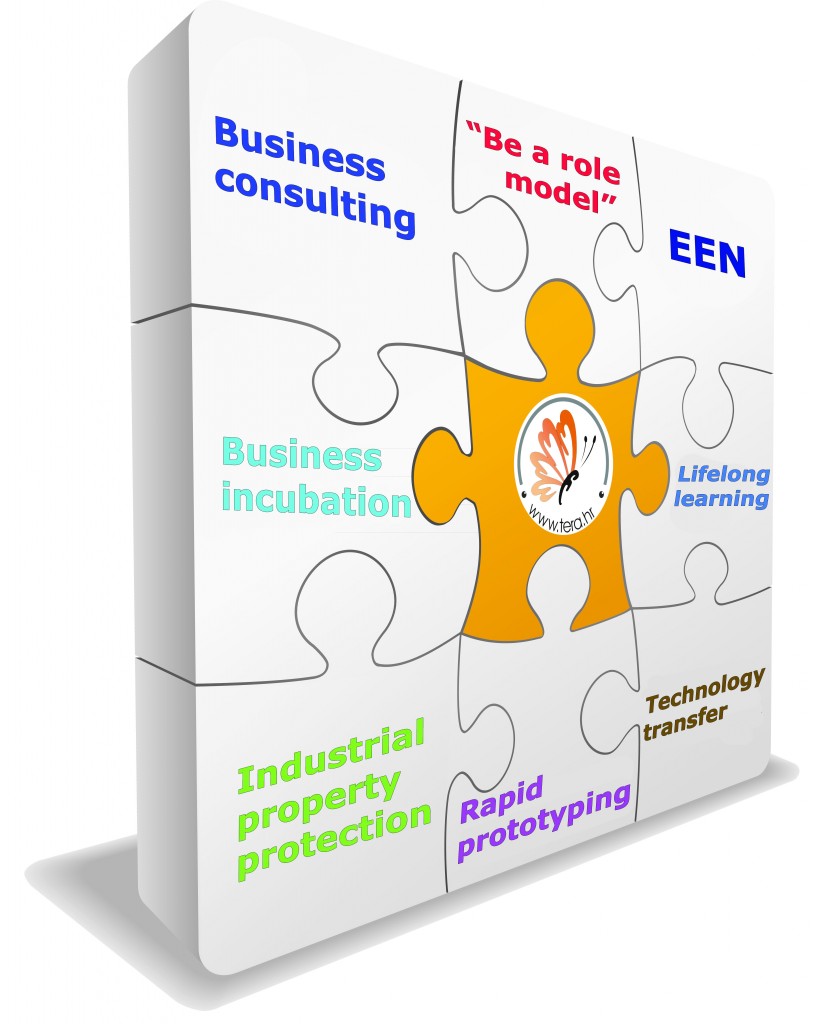 As one of the business activities carried out, Tera Tehnopolis business consulting provides support in all business segments of existing and new clients. The activity in which trust of entrepreneurs and business consultant is extremely important, business consulting conducted by TERA Tehnopolis offers professionalism, knowledge and experience which is confirmed by numerous TERA clients.
TERA Business Consulting allows any individual personal development in various fields of activities and targeting individual potentials of individuals in all business areas.
professionalism, knowledge and experience which is confirmed by numerous TERA clients.
TERA Business Consulting allows any individual personal development in various fields of activities and targeting individual potentials of individuals in all business areas.
BE THE ROLE MODEL is an international exhibition of inventions and student business plans. From the beginning of the exhibition, it is focused on innovators and students, and since 2008 a wide range of networking activities are organized with the help of the Europe enterprise network. Since its existence to this day, as part of the exhibition it is trained more than 1,000 students in writing business plans.
In addition to the basic activities that Tera Tehnopolis carries out, puts special emphasis on the implementation of international projects and thus closer to the client's performance on the international market. Tera Tehnopolis since 2008 carried out international projects. Also, participating in various international and national trade fairs and is a partner with technological development centers, chambers of commerce and scientific-technological parks in more than 15 countries.
Business Incubator TERA is office space for small and medium entrepreneurs who run business or expand an existing one. Incubator of 1.200 m² includes 18 offices, 12 workstations, computer room, seminar room and smaller capacity meeting rooms, and a toilet. In addition to office space and modern office equipment, tenants can use advisory and consulting support in the realization of entrepreneurial ideas.
The success of the market is made by using new technologies and innovations. TERA Technopolis is a registered representative at the State Intellectual Property Office since 2005. Within services, offers a complete support in the protection of intellectual property.
TERA Tehnopolis through its activity aims to strengthen the awareness of entrepreneurs about the importance of intellectual property and its protection. So far it has represented clients in more than 100 protection processes. The protection of the patent, trademark and industrial design is not only the realization of innovative steps entrepreneurs, but also strengthen the competitive advantage of enterprises. Case studies have shown that entrepreneurs need to be aware of the rights and obligations arising from intellectual property, and also invest in the protection of their brands.
TERA Tehnopolis offers a rapid prototyping service with the help of a 3D printer, which is based on three-dimensional volumetric image, subject is printed physicaly in three dimensions. In recent years the technology of rapid prototyping, with computer-aided design (CAD) has become an essential engineering tool. Reduction of the product development, encouraged by constant innovations and market struggle, the greater the complexity of the product, the need for real models in order to better assess the shape, dimensions, control functionality, ergonomics, factors that influenced the rapid development of this technology and its implementation in many areas of engineering practices.
Technology transfer is a process that involves the exchange, sale or transfer of technology in the broad sense (technological knowledge, processes, inventions) of the place of origin to the place of the future users. Technology Transfer Office (TTO) represents the relationship of the academic and business community, encourages research and professional work, and promotes the protection and commercialization of the results of that work, and for the benefit of researchers, component and the University as a whole.
Basic information
Company: Tera Tehnopolis d.o.o. za promicanje novih tehnologija, inovacija i poduzetništva
Short name: Tera Tehnopolis d.o.o.
Headquarters: Trg Ljudevita Gaja 6, Osijek
Registration court: Commercial Court in Osijek
Registration number under which the company entered in the Commercial Court in Osijek: 030073690
OIB: 39077073015
Amount of initial capital: 380.000,00 kn paid in full
Board member: prof. Ph. D. Ivan Štefanić
Bank: Zagrebačka banka d.d.
Headquarters: Zagreb, Trg Bana Josipa Jelačića 10
Account number: HR7323600001102456921
Tel: +385 (0) 31 251 000
Fax: +385 (0) 31 251 005
E-mail: ured (at) tera (.) hr
Where we are
Otvorite TERA mapu u većem prozoru.